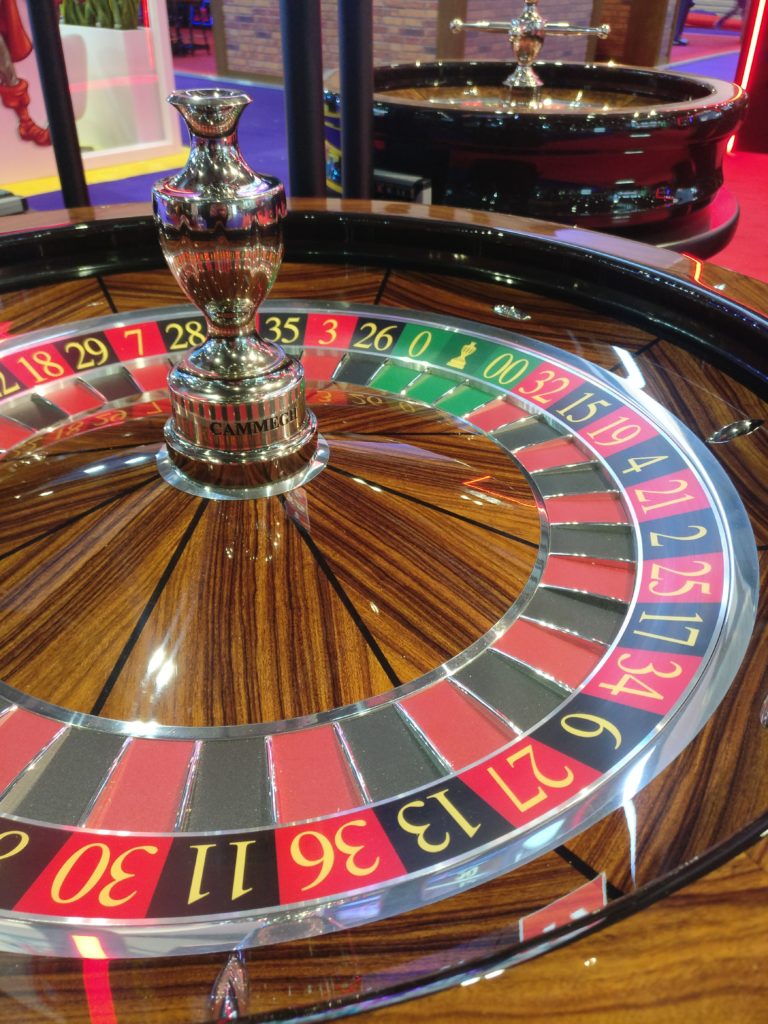 Triple zero is a sure bet for Cammegh on the Vegas Strip
Cammegh, makers of the world's finest roulette wheels, secured a 12 triple zero wheel order from Niagara Casino during the first day of G2E in Las Vegas, the prefect way to begin any exhibition. The success of triple zero roulette with numerous operators in Las Vegas has proved the perfect live showroom environment for Cammegh, which has a huge footprint on the famous Strip, with over 60 per cent of roulettes now hailing from the UK-based firm.
From a standing start in 2011, when Cammegh received its abbreviated manufacturers license in Nevada, the calculated risk and significant financial investment has proven itself a sure bet. "We took the risk because we were absolutely confident that we could deliver a superior product to the market. In a desert environment, you need a wheel that is stable in all conditions," explains Andrew Cammegh. "In addition to the elegantly crafted designs, all our wheels are made from composite resin, ensuring that they are inert to temperature and moisture changes, which is one of the many reasons why such a wide range of local operators have adopted our wheels. The game of roulette in Vegas is growing in popularity, with the number of tables on floors rising steadily. While we're seeing other table games receding, triple zero roulette is increasing in both popularity and as a revenue earner."
What's most important for customers is to receive a consistent product with consistent service, with Cammegh ensuring the best of both worlds. A Cammegh wheel is a beautifully hand-crafted product utilising a maintenance-free for life bearing that's also imbued with world-class technology. Rapid number recognition and interactive game presentations on the sublime billboard display, means that properties are able to easily differentiate their games from site to site, incorporating game graphics, promotions and even sports events to best suit their players' preferences.
"G2E Las Vegas is not a one town show, it is an international event, one of the three main exhibitions in which we participate," describes Andrew. "In London, Macau and Vegas we seize the opportunity to exhibit the matchless Slingshot 2, the faultless Mercury 360 Halo wheel, the peerless Patriot wheel, and the timeless Mercury 360 mini – designed for stadium environments to increase games by up to 50 per cent. Cammegh is renowned for innovating specifically designed products for an array of challenges in the vertical space of roulette. The Vegas G2E event is a fantastic opportunity for the company to meet partners seeking OEM solutions, end-users and operators from far-flung-fields."
The newly minted Cammegh Wheel Leveller was the nearest thing to a proverbially 'hot cake' on the booth in Vegas. The design allows for lateral movement only to ensure operators are measuring a level on a horizontal plane, since any vertical movement renders the process ineffectual. To avoid this, the Cammegh Wheel Leveller's design is unique. The magnetised contact joint restricts movement to the lateral plane only, making it incredibly straightforward to set-up and swiftly ascertain if a wheel is perfectly level.
"The diverse nature of the enquiries at G2E was astounding," describes Andrew of the G2E show 2019. "Cammegh is unique in the sense that the clarity of focus upon our products and deliverables is increasingly apparent to all our customers, which is why we are enjoying such success, through from design to execution. G2E was a hugely enjoyable show and we are busily preparing now for a spectacular ICE exhibition where we look forward to welcoming all our clients and customers to London. We have some exciting developments coming through and we look forward to sharing all our secrets on the booth in 2020."